Teeth Whitening Walnut Creek at Pope Dental
Teeth Whitening Treatments for San Francisco Bay Area Patients
At Pope Dental in Walnut Creek our goal is to provide our patients with the very best general and cosmetic dentistry. That means we aim first at ensuring our patients have optimal dental health and then we address the good looks of their functional and healthy grins. Once we have helped you achieve your goals in our dental office, we can then put the finishing touches to your dedication to oral health by providing in-office or take home teeth whitening products.

Who Should Use Teeth Whitening?
You cannot ignore the fact that white and bright teeth are everywhere you look. On film and TV, in magazines and ads, and on many people you meet, gleaming white teeth seem to enhance the appearance of any smile. If your teeth are in good health and condition, some whitening may be all you need to cosmetically enhance your smile.
This is why we offer two convenient options for teeth whitening in our dental office:
Opalescence BOOST

Opalescence Take Home
With Opalescence BOOST you can enjoy premium results in one hour. It is a method of teeth whitening that must be professionally applied by Dr. Pope and his team. It is chemically activated, though, and that means no bright lights, dry lips or discomfort of any kind.
Instead, your teeth will be compared to a shade guide to determine what shade you currently have, and then the Opalescence BOOST is carefully applied using the patented applicator. A bite guard is used to help you remain comfortable for the time that the compound remains on your teeth. An hour later, your teeth will be several shades whiter. No laser lights, no special gadgets … just the brush applicator and a bit of time in the chair.
This approach to teeth whitening is safe, powerful and effective. It uses a mixture that is also known to help reduce cavities by increasing the hardness of enamel and it will also minimize tooth sensitivity too!
If you would prefer to use the at home system, you enjoy the same beneficial formula, but you will choose the concentration you are most comfortable using. It is then applied using custom dental trays you slide over your teeth. You can choose from several flavored gels, and you will have to leave them in place for 30 minutes to ten hours based on the concentration of the Opalescence gel you selected.
Which is best? It really boils down to the amount of time you want to spend. The at home products are not as effective as the in-office treatment because of the concentrations and the method of application. After all, Dr. Pope can apply the formula very precisely in the dental office, while the at home trays may not dispense the compound as evenly or precise. However, both whiten the teeth and provide long-lasting results. Both benefit from after care as well, such as the use of whitening toothpastes
The goal is to visit the dentist office and get your teeth and gums in the best shape, and once your smile is healthy, speak with Dr. Pope and his team about your best options. Are you interested in learning more about teeth whitening? If so, give us a call at 925-939-4989 or use our online contact form. Dr. Pope or one of his team will get in touch with you and discuss how to get you the whitest smile possible.
To learn more about teeth whitening, read our other pages/blogs:
Related Teeth Whitening Articles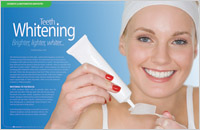 Teeth Whitening – Brighter, lighter, whiter…
The subconscious impact of a white smile is radiant health, happiness, warmth and invitation. Today brighter, lighter, whiter teeth have become a norm. Tooth whitening by bleaching is a successful, conservative, relatively inexpensive and safe alternative… Read Article
Important Teeth Whitening Questions Answered!
In Dear Doctor's interview with nationally noted teeth-whitening expert Dr. Van B. Haywood, he answers questions about bleaching techniques and safety in achieving the best possible results. If you are thinking about getting your teeth whitened at your dentist's office or doing it yourself at home, this is a must-read… Read Article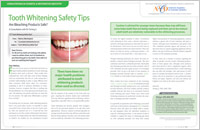 Tooth Whitening Safety Tips
There have been no major health problems attributed to tooth whitening products when used as directed. Many studies have confirmed this, and we will share some of these findings with you… Read Article