Dental Implants Walnut Creek
Long-lasting Dental Implants from Walnut Creek Dentist
Are you missing one or more teeth?  While you may be bothered by the appearance of missing teeth, that gap in your smile can cause more than just aesthetic issues.  Whether a single tooth is missing or no teeth are salvageable, dental implants are long-lasting, aesthetically and structurally sound options to combat tooth loss.  Durable and discreet, dental implants consist of a synthetic tooth root, often made of titanium, to which a replacement tooth is attached. At Pope Dental in Walnut Creek, restorative dentist Scott Pope, DDS, offers dental implant treatment for San Francisco-area patients with missing teeth.
Need for Dental Implants
Whether you are missing a single tooth or several teeth, the gap in your smile can cause various problems including:
Loss or deterioration of jaw bone
Shift of remaining teeth
Difficulty chewing or biting
Becoming self conscious about smiling
Dental implants covered with a dental crown or bridge can help combat these problems.
Dental Implant Procedure
The dental implant procedure used by our Walnut Creek restorative dentist is typically completed in three phases: implantation, osseointegration, and dental restoration placement.
Implantation
Prior to the initial phase of the dental implant placement, any remaining tooth structure that is supposed to be replaced will need to be removed.  During the first phase, Dr. Pope will insert a titanium rod or screw into the jawbone.  This rod will act as the tooth's root.
Osseointegration
The second phase of the implant procedure, osseointegration is the process of the jaw healing and the rod becoming part of the jaw structure.  During this stage, a temporary cap or cover is placed on the rod to protect it during the healing process.  It can take several months for the jaw to fully heal.
Dental Restoration Placement
Once the jaw has healed and the dental implant is in place, Dr. Pope will place the dental restoration on the tooth.  Typically this is a dental crown; however, in some cases, the restoration may be a dental bridge or fixed dentures, depending on the number of missing teeth. With proper care and dental hygiene, many patients at our San Francisco Bay Area practice find their dental implants can last for many years, and in some cases a lifetime.  If a replacement tooth should become damaged, however, a new restoration can be placed.
GALILEOS – CEREC® INTEGRATION (GCI)
GCI assures Effective Implant Therapy:
Optimize implant alignment and assure correct placement to achieve optimum results:
Measure gingival line and thickness prior to surgical procedures
Evaluate surgical and prosthetic parameters immediately and simultaneously
– Reduced incidence of esthetic complications- Avoidance of angled abutments – Patient-specific abutments- Reduced incidence of unfavorable loading, which can shorten
implant lifePope Dental incorporates the Galileos 3D Cone Beam imaging into daily use.  This digital technology is very comprehensive, allowing us to see things we couldn't see before.  3D CBCT imaging makes the X-ray diagnosis and implant treatment safer, more predictable and faster.  We can virtually plan and place implants in the most ideal position, allowing for the best outcome.  Then at the time of treatment customized guides specific to the patient and the case assist with accurate implant placement.  This allows for a shorter and more comfortable appointment for the patient.  We want our patients to receive the best dental care possible, that's why we invested in the latest technology in dental diagnostics, the Galileos 3D Dental Conebeam.
Contact Our San Francisco Bay Area Dental Practice
If you are missing one or more teeth and are wondering if dental implants are the best solution for you, contact our San Francisco Bay Area dental practice today.  During a dental consultation, Walnut Creek dentist Scott Pope, DDS, will give you a comprehensive dental examination and discuss the pros and cons of dental implants for your specific needs.  To see before and after photos of actual patients of Dr. Pope, check out our Smile Gallery. Experience the many benefits of dental implants and be sure to follow our dental implants aftercare for long lasting results. For any questions, read our FAQs page. Lastly, if you want to test your knowledge, take our true or false dental implants quiz!
Related Dental Implant Articles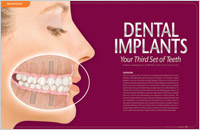 Dental Implants – Your Third Set of Teeth A discovery fifty years ago paved the way for one of dentistry's most exciting, natural looking and successful tooth replacement systems. Learn how dental implants might just possibly change your life… Read Article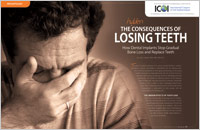 The Hidden Consequences of Losing Teeth For those missing even one tooth, an unsightly gap is actually the least significant problem. What's of far greater concern is the bone loss that inevitably follows tooth loss. Dental implants fused to the jawbone can preserve bone, improve function and enhance psychological well-being. Learn how implants serve both as anchors to support replacement teeth, and preserve bone as one of the better preventive maintenance procedures in dentistry… Read Article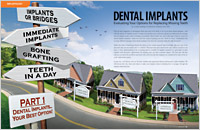 Dental Implants – Evaluating Your Options for Replacing Missing Teeth As we guide you through the marketing hype you'll see that well planned implants most often require a team approach in assessing whether they're right for you. Not only are they a better treatment choice, they will last longer, possibly a lifetime, making them the right choice and the most cost effective option long term… Read Article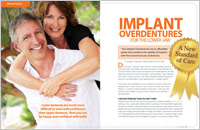 Implant Overdentures for the Lower Jaw Implant overdentures represent a major change for the dental profession and the public. The lower jaw two-implant overdenture may be considered a more appropriate starting point over regular dentures… Read Article
Here you can create the content that will be used within the module.